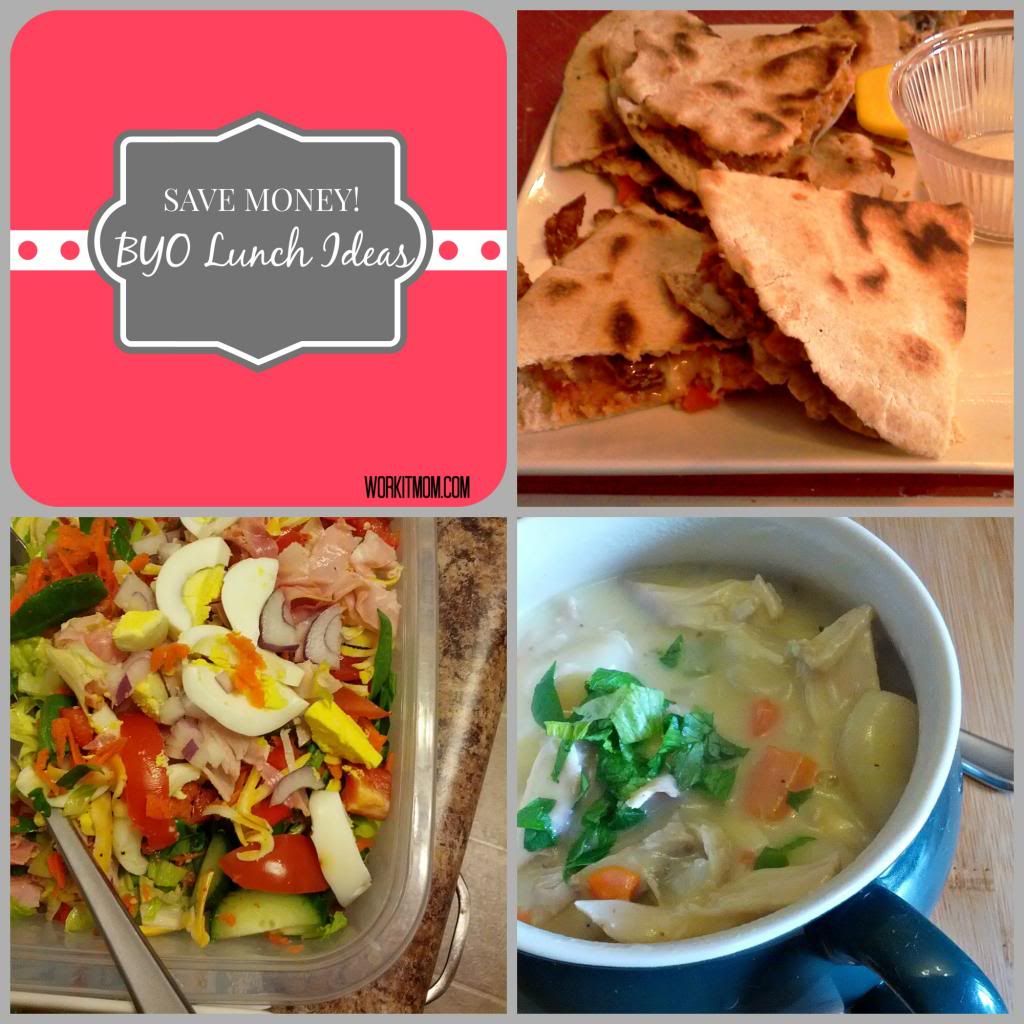 Mornings in my house are hectic and by lunch time, I need a hearty, but healthy meal. To keep from mid-afternoon slumps, it's best to focus on protein to keep you full. If you're eating lunch in the office, there are many inexpensive meals you can make the night before and grab out of the fridge in the morning. If you have time during the weekend, I suggest prepping as much as you can! I make hard boiled eggs, grill some chicken on the Foreman and make a batch of quinoa or brown rice. Any veggies can be chopped and prepped for weekday meals.
1. Salad Jars. Put the dressing in the bottom of a mason jar (or any recycled jar) and pile in your favorite salad fixins. I like to keep chicken or ham on the side, as well as any croutons. Keep a nice big salad bowl at your desk to dump your jar into. If you are looking for some salad ideas, check out this post
2. Veggie Burgers. I love protein packed veggie burgers…especially the great new flavors that are out there. I buy the Boca Bruschetta variety to break up for lunch pita pizzas. The Mediterranean MorningStar burger is ah-mazing with some Oikos Dill Greek yogurt dip and cucumbers on a sandwich thin. At Costco, they sell black bean burgers that make a great quick quesadilla! Since they are veggie burgers, they are filling…but not heavy like a normal burger. You can keep some in the freezer at work and heat them up quickly in the microwave.
3. Overnight Oats. Yes, this is an amazing breakfast, but with the Greek yogurt and chia seeds, it makes a nice lunch too…especially if you're working at your desk. I love to add peanut butter and bananas to mine.
4. Wrap it up! I love whole grain wraps stuffed with veggies and turkey. Instead of mayo, try veggie cream cheese or Greek yogurt dip to lighten up. TIP: Since wraps can easily get soggy, I like to wrap the inside ingredients of my wraps in parchment paper and keep the tortilla on the side until lunch.
5. Quinoa Bowls. Love Mexican food? Try a quinoa bowl. Add black beans, grilled chicken or steak, fajita peppers or whatever floats your boat! Top with cilantro and avocado and you have a great burrito bowl and you won't miss the extra calories! It can be served cold or hot.
6. Homemade Soup. Even in the warmer months, I love soup for lunch. I have a whole series of simple soups on my blog that freeze well and can be made quickly. When freezing soups, put in a lunch sized portion and just take out of the freezer the night before…viola!
The main idea is to step away from frozen meals for lunch (I'm guilty of buying them!) and try to lighten up lunch. If you do a little prep, your waistline will thank you for healthy lunches…and so will your wallet!
What's your go-to lunch?