The Working Closet is your source for the best of what's hip and fresh in fashion and beauty. Susan Wagner keeps you up-to-date on trends and offers tips and tricks for making everything in your closet truly work for you.

You can also catch Susan over at Friday Playdate.
I am a firm believer in the Basics Wardrobe, in a closet full of pieces that transcend seasons and move easily from work to weekend. But how do you keep your go-to outfits from starting to look like a uniform?
Accessories, baby.
Think about it this way: the essential go-to outfit is a white shirt (tee or blouse) and dark trousers or skirt (dark rinse jeans are fine). Crisp, clean, easy to wear. And with the right accessories, hip and chic. Jewelry is a simple, no fuss option. Stick with one statement piece, something bold and bright.
Like a great necklace.

Old Navy, $14.50

Target, $19.99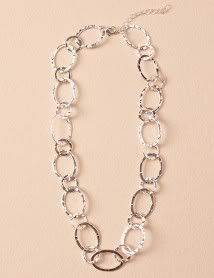 Ann Taylor Loft, $26.00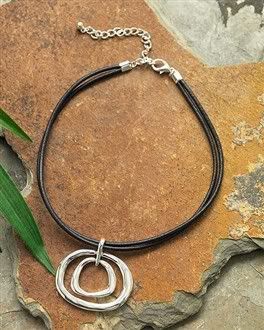 Chico's, $26.00

Banana Republic, $98.00
A necklace is the easiest and least distracting (and thus most professional) accessory option; it won't clank on your keyboard or bang into your phone or get in the way when you shake hands. The most flattering look is something that hits right around the collar bone, but you can go slightly shorter or slightly longer, depending on your personal taste. With a tee or crewneck sweater, choose something that won't constantly be falling under the neckline of the shirt; with a button front blouse, go with something shorter than the top button.
Shop your favorite chains or boutiques for great necklaces, or look at craft shows and art galleries for something different. Mix and match pieces for a funky, layered look. Be brave and bold; when you're relying on basics for everyday, you can afford a little bling.
But not too much, I'm begging you.
Have a necklace–or some earrings or a bracelet–you love? Share it with us at The Working Closet's Flickr pool! You know you want to.
Subscribe to blog via RSS
Check out our popular Q&A area to ask questions and search for answers.
Check out our favorite quick and easy recipes, perfect for busy moms.
Check out our daily picks for affordable luxuries for you and your family.